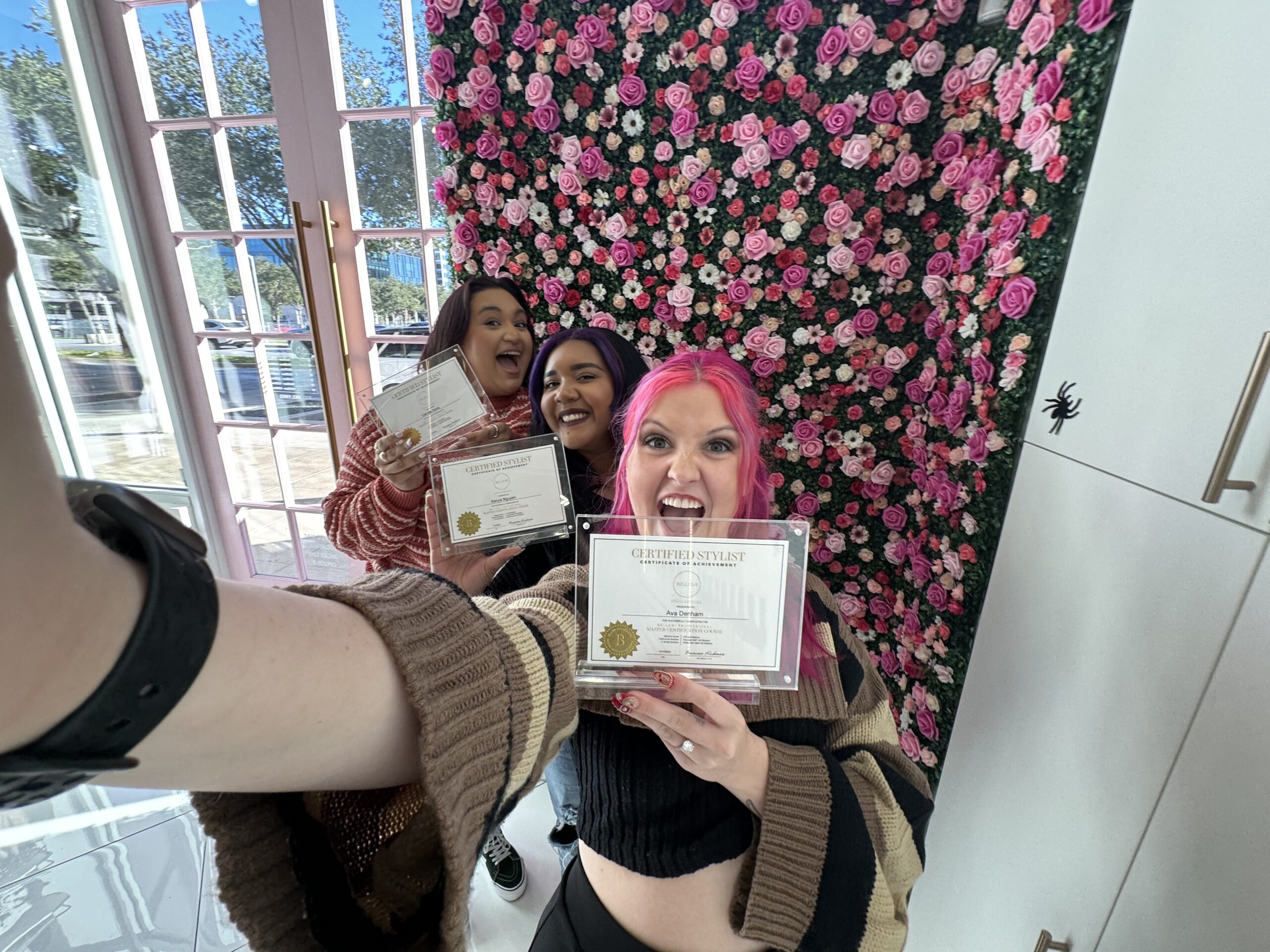 Our Girls Having Fun & Getting Certified
READ BELOW FOR ALL GENERAL ANSWERS
CLICK THE PINK BUTTON TO SET UP YOUR PERSONALIZED CONSULTATION
What Are Hand Tied Extensions
The Story towards Glorious Locks
Having gloriously long hair is every girl's dream. However, not all of us have it easy in that regard. For example, if your hair is prone to breakage, you may try to grow it and however much you want; even if it grows, it only ends up looking thin and frazzled.
However, with hand tied extensions, you can get luscious hair right away, without any further struggles.
Hand tied extensions involve attaching beads onto a row of your natural hair, in a manner that is similar to weft beading. The process is quite detailed and usually takes longer as compared to tape-in extensions.
Hand tied extensions are a great choice for those who want to add length and volume without the extra tension to their hair or scalp. They are very safe for your natural hair. They are also great on short hair.
How Are Hand Tied Extensions Installed
Some types of extensions, such as the clip-ins, you can install yourself, at home. However, when it comes to the hand-tied kind, it is best that you leave this in the hand of a professional. They'll be able to determine the number of wefts needed, as well as the best hair for your desired look.
In order to install the extensions, your stylist will first separate your hair into sections. From that point on, they will take tinier sections, one at a time, and slip a small silicone bead on it – securing it in place. This creates the framework on which your extensions will be secured. Once you are done with the beadwork, it is time for you to move onto adding the hair.
Typically, the extensions are made of Remy hair and arranged in the form of a small curtain row. These rows will be attached to your head, using the silicone beads as a baseline. The stylist will then sew your extensions into the beads, making sure that the weight is distributed evenly. Since these extensions do not have the thick points of clip-in extensions, no one (not even you) should be able to tell that this isn't your hair.
This is why it is called "Hand Tied Extensions" or "Hand Tied Wefts".
Since there is no tape or glue involved, it deals less damage to the hair – making it a great choice for those with fine hair who already have enough trouble with hair loss.
How Do Hand Tied Extensions VS Tape In Extensions Battle It Out
Since the hand-tied type does not use any tape, you do not have to worry about the "harsh edges" often associated with glue and tape. Everything is natural and smooth, and with the right hair extensions, you would need fewer layers to get a great hairstyle. WITH HAND TIED EXTENSIONS, YOU CAN WEAR YOUR HAIR  VERY LITTLE WORRY ABOUT SEEING THEM. This is not true with tape in extensions. 
Eutopia has made the decision to only do hand tied extensions and Keratin extensions because of the quality difference. They are worlds apart in quality from tape in extensions and more in line with the quality of our other services. 
We also know they are much better for your hair and we are seriously interested in keeping you as our client for a long time and keeping your hair looking its best while you are our client. 
Eutopia Salon Has the Best Educated Extension Specialists and Certifications In Baton Rouge
Our stylists have all been educated by Bellami, the top extension Training company in the US. They have all been certified in multiple (5) different techniques specifically from in-person training from Bellami Trainers!!
These classes do not come cheap so many stylists who are certified go to other extension company certifications or even on-line classes for their certifications. These just do not hold a candle to the training our stylists have received.
We truly believe in sending our stylists to the the best education available. We have done this since our inception in 1996.
Over the years, our stylists have been  everywhere from LA to Las Vegas (a week long trip we used to do every year.)  We've been to New York for week long classes, to Miami and every big city in between.
Our stylists do hand tied wefts, hand tied machined wefts, and keratin tip extensions.  During a comprehensive consultation, they will help you determine the best method, as well as which color of hair to use and how much hair you will need to achieve your desired look.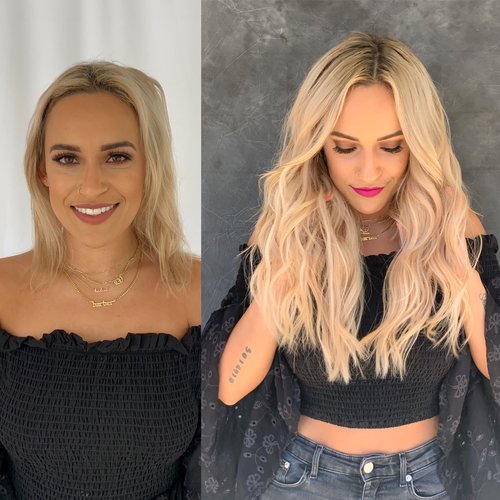 How Much Do Extensions Cost
The price of hand tied extensions varies depending on a variety of factors. The type of extension you want is the first determiner. After that, your hair goals, the quality and the amount of hair are the main differences in the cost.
In order to have good results, you will need to use Remy hair – which can be as priceless as it is good-looking. Don't underestimate certification when it comes to the value of the extensions. The stylists, at Eutopia Salon, are thoroughly trained and certified in several types of extensions and with the number 1 training company.You will not find a more professional or more qualified extension stylist.
The Cost For Hand Tied Extensions
The labor for hand tied extensions costs $400 for 5 week application.
These prices again, are for the labor and not the hair.
Hair prices for quality hand tied extensions start at around $500.
Our sister company, ModLengths.com, is on site and you can purchase beautiful Remy hair the same day as your consultation. 
We also offer pay plans for Modlengths Hair because we know it is an investment. 
The correct maintenance for Hand Tied Extensions would be getting a "move-up" every 6-8 weeks. That costs an average of  $200. 
Maintenance is a move up or redo- it's when the stylist takes them out and reattaches them closer to the scalp again.
Considering the efforts that many women go through in order to get that thick hair effect, all of our clients believe it to be completely worth it – particularly when done on thin hair.
The main investment is the actual hair, but once you get it, you can always move it up and reuse it. If you use our hair (ModLengths.com), you should be able to use those extensions for quite a long time – the only thing that you should be concerned about being the move up or redo cost.
How Long Do Hand Tied Extensions Last
The longevity of hand tied extensions will depend on how well you care for them. If you care for them properly, you may use them for as much as 9-12 months. Not taking proper care of the extensions may lead to damage, like it would happen if you would not take proper care of your own hair.
The main investment is the actual hair, but once you get it, you can always move it up and reuse it. If you use natural hair, you should be able to use those extensions for quite a long time – the only thing that you should be concerned about being the move up or redo cost.
What Is The Maintenance for Hand Tied Extensions
Even if you are not wearing your extensions, it is advised that you properly detangle your hair, and also cleanse and condition. If not, even high-class extensions may end up being damaged throughout time.
As for the upkeep, hand tied extensions have to be replaced somewhere around 9-12 months. Still, this will also depend on your hair growth rhythm. Obviously, if your hair grows faster, you will have to set different appointment times.
Hand tied extensions also last longer if you set the proper appointments for a redo or moving them up because it will reduce scalp tension. Not taking proper care of them might cause you to have discomfort on your scalp and shortening the longevity of the extensions.
Here at Eutopia Salon, we do not do synthetic extensions. They may be cheaper but they will not be as long-lasting as human hair. They are difficult to be styled, and while using styling tools might not ruin them right away, they will shorten the life of the extensions. Instead of feeling soft and smooth flowing like extensions are supposed to be, they will feel harsh and difficult to manage.
The way you wash them will also affect their longevity. For both the shampoo and the conditioner, you should stay away from sulfates. These can dry out your hair.
We have 2 different brands that we use for extensions. We suggest either Kevin Murphy or Brazilian Products for your extensions. Which we suggest will be determined by your natural hair and your specific needs. 
Both of those lines are amazing for the health of natural hair and extensions. They will also lengthen the life of all colored hair.
Moreover, when you are styling your hair, make sure that you use heat protection; otherwise, you might just end up damaging your extensions and cause split ends. Yes, split ends can happen to extensions as well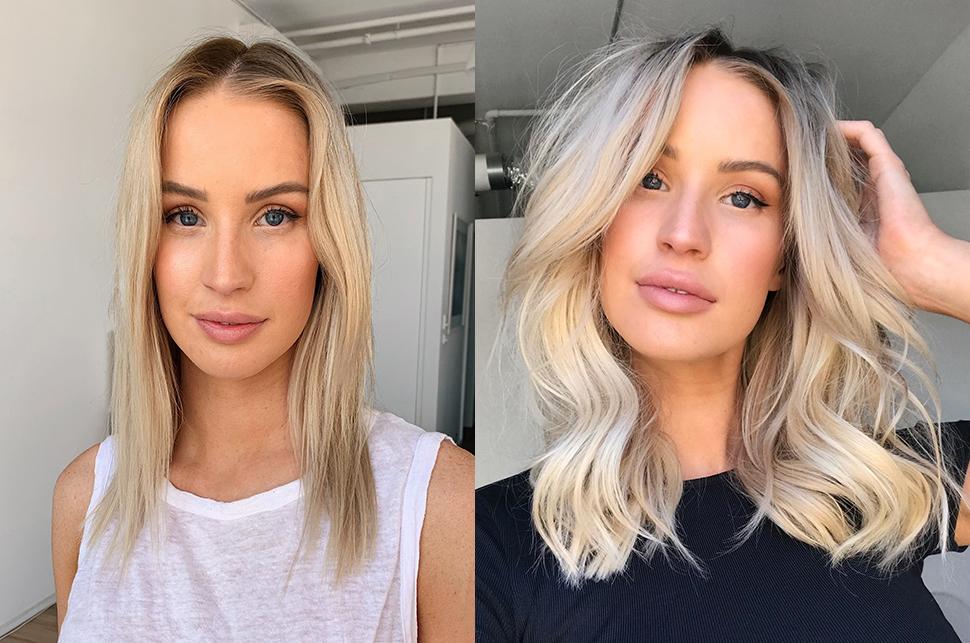 What Do Extensions Feel Like
First, let's just start with YOU"RE GOING TO LOVE THEM!!!
In order to have your extensions placed, your hair will be sectioned in a way that those extensions will fall naturally. Your hair should feel fuller both to the front and the back, giving the impression of thicker hair that looks natural. You will feel like there is something in your hair, but compared to clip-ins, for example, they are not as uncomfortable. In a couple of days, you should get used to them.
Hand tied extensions may feel tight at first, creating the illusion of an itch as your extensions are slightly pulling at your hair. However, after a couple of days, they will slightly loosen up and they will feel just right.
You may even forget that you are wearing extensions. By looking at before and after pictures, you can see that the hair looks fuller, while also looking natural.
These types of extensions are also very comfortable to sleep on. They do not have clips and because of that, you will be able to sleep comfortably. You won't feel like you're sleeping with clips in your head.
Still, it is recommended that you put your hair in a loose braid before going to sleep, to prevent damage from occurring throughout the night. This is particularly the case for long hair that tends to go all over the place.
Can You Style Hand Tied Extensions
As long as your extensions of choice are made completely from human hair, you can easily use styling tools to bring them to shape. This is another reason why we only use real hair at Eutopia Salon.
Bear in mind that just like you'd protect your hair against the heat, you will have to protect your extensions as well; otherwise, you might just end up with split ends, as previously mentioned.
As long as you get a heat-protective spray, there should be no need for you to change your hair styling routine. Moreover, considering that the wefts are highly secured, you will not have to worry about the seams showing, and they won't be coming off as you are styling them.
Since hand tied extensions are, well, tied, you should also be able to wear them in your usual styles. These were made to blend in, so even if you were to put your hair up into a high ponytail, there should be no problem.
Comparing tape-in vs sewn in wefts
The sewn-in type is smooth to style, and you should be able to create many different hairstyles. The only visible thing will be that your hair is much thicker and more beautiful than before.
With Tape in extensions, you will be MUCH more limited in the number of styles you can do without them showing.
Since the extensions we use at Eutopia Salon are made of human hair, these extensions can also be bleached and dyed. Therefore, even if you feel the need for a color change, you should be able to achieve it.
Still, you must go to a professional salon to preserve the quality of your hair. Stay away from box dyes and other treatments; not only can those damage your actual hair, but they can also be a horror for quality extensions.
What Types of Hair Work With Hand Tied Extensions
Hand tied extensions are a great choice for people that have straight to wavy hair, as the beads will remain flat against the scalp. This way, detangling them is an easy matter. You may go closer to the root, going just below the silicone beads. 
If your hair has a curlier texture, then you can also use a sewn-in type of weft. This way, it should be easier for you to manage and detangle your extensions, without accidentally loosening the wefts. Depending on your natural hair, you might need multiple wefts and extra hair in order to conceal a hairline. During your consultation at Eutopia, we will guide you into determining just how many wefts you need.
Get Your Extensions Done At Eutopia Salon
As much as you may want to be your own stylist, the best way to ensure that your extensions are blending properly is to have a professional hairstylist helping you. At Eutopia salon, we can provide all kinds of extensions, no matter if you want volume for thin hair or if you wish to add length. You may read some reviews left by previous clients, for extra proof.
Our extension specialists are qualified for providing you great hair styling excellence for all kinds of extensions, including hand tied extensions.
If you come across Eutopia Salon by looking for "hair extensions salon near me"; don't hesitate to make an appointment for a consultation,
We can help you with your choice of extensions, your styling, the upkeep, and everything necessary to maintain your extensions in peak shape.